What is St. Andrew's Abbeyfield?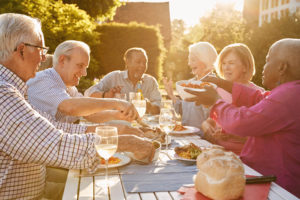 The Abbeyfield Society
In 1956, a unique concept for retirement living originated in England to foster safe housing for independent older persons who were seeking companionship within a caring affordable environment. Currently there are hundreds of Abbeyfield houses located in many countries around the world. In 1987, St. Andrew's Abbeyfield was the first house established in Canada. Like all Abbeyfield Houses it is a non-profit organization, managed by a volunteer board of directors. It is truly a home within a home.
Welcome Home
St. Andrew's Abbeyfield Sidney, offers a unique housing concept for individuals who wish to have companionship, security, respect, independence and privacy
Our Goal:
Abbeyfield strives for a caring respectful, home-like atmosphere that enhances the quality of life for independent seniors. Life is better among friends.
St. Andrew's Abbeyfield is a voluntary effort by people of goodwill to assist the elderly to achieve a fulfilling way of life.
The overriding aim of St. Andrew's Abbeyfield is to provide affordable accommodation and companionship in a home like atmosphere, for older people within their local community. This is achieved by offering supportive care houses in which nine residents live like a large "family", with a live-in house coordinator facilitating daily routines and meals.
Contact Us
10017 Fifth Street,
Sidney BC V8L 2X8
Phone: (250) 652-5410